Covid-19
As you know the Government has given schools instructions for pupils to return to normal learning as from September 2021. However, we know that new parents will be concerned as to what procedures the school will put into place, should the situation change.
During the pandemic Springwell School was divided into three bubbles, with each bubble consisting of 8 to 10 Classes. All pupils still had access to additional learning spaces such as Art Room, Cookery, Soft Play, and Magic Room. These rooms were used on a rota basis by each zone and were deep cleaned after each zone has used these facilities.
Our Site Team were on site during the school day cleaning high traffic areas.
Each bubble had their own designated play areas and lunch hall, so as not to mix with other zones during busy times of the day, they also had their own dedicated entrance and exit.
We also worked closely with the Transport Team, so pupils were transported on buses with children in their own bubbles.
We hope that we have addressed all your questions. Should you have any further questions, please do not hesitate to contact us.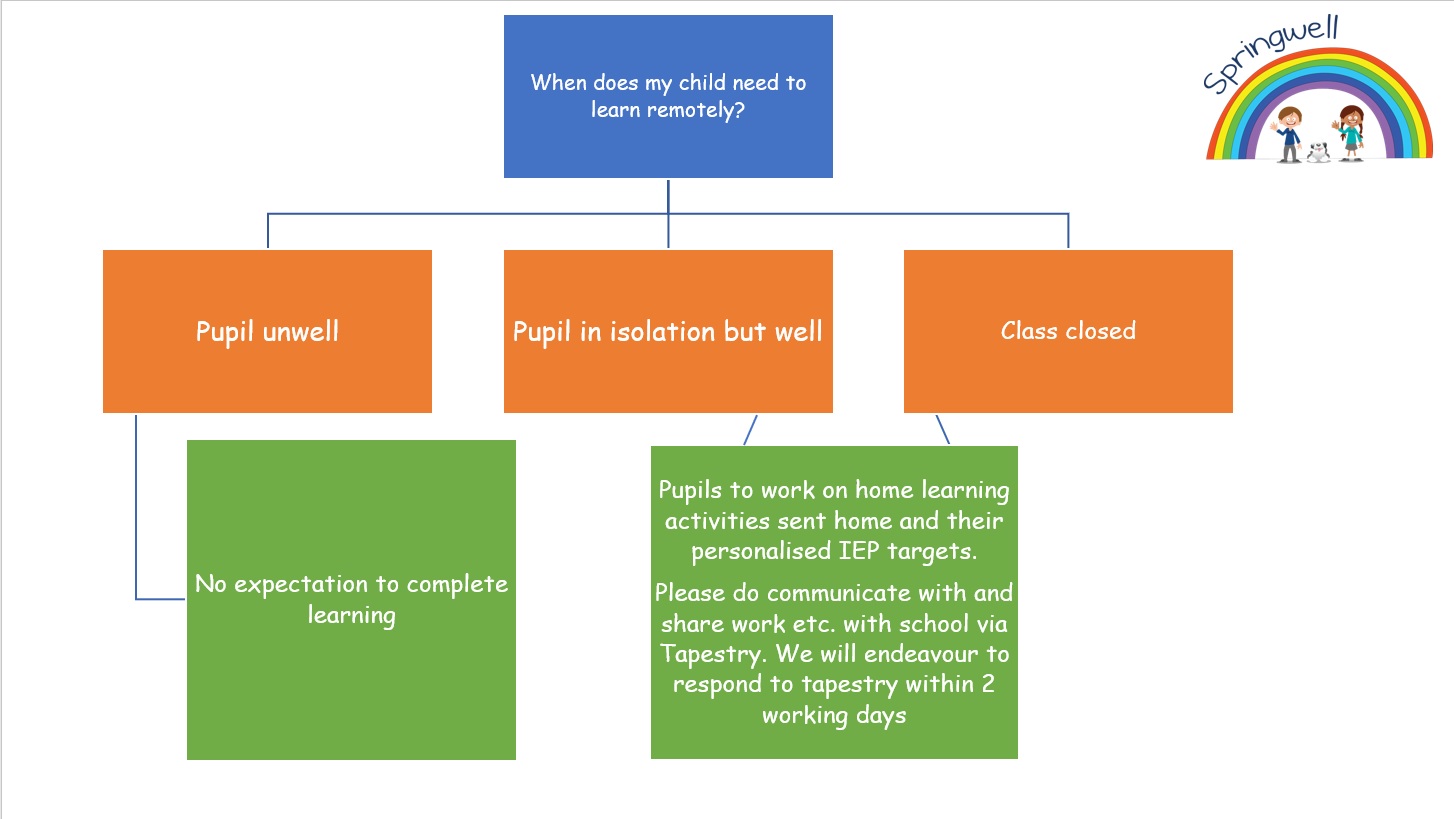 Current Covid-19 Procedures
Springwell School continues to follow the current advice and guidance from Government and Public Health England. Our primary priorities are to ensure
We minimise the risk of transmission

The children, staff, parents and our community are safe

We minimise any disruption to teaching and learning

We maintain a flexible approach that will enable us to act swiftly to any changes to Government or Public Health England guidance.
We constantly review and update our Covid-19 Risk Assessment and we currently have the following measures in place;
Staff continue to wear masks when transitioning and in corridors.

Masks are not required in classrooms

Teaching of good hand hygiene

Keep the school as well ventilated as we can

Enhanced cleaning of high traffic areas, such as toilets, door handles etc

Hand sanitiser dispensers around school and in each room, for staff use

Twice weekly LFD testing for staff

Twice weekly Saliva testing for staff and pupils

Temperature checking for all visitors
All measures we have in place will be monitored in light of national and local numbers and numbers of cases within school. Measures will be increased or decreased as necessary and parents and other stakeholders will be informed of changes as necessary, via our Parent Mail system.
Catch Up Premium
The Government has allocated funding to each school to support "Catch-up."
The DfE guidance states:
Schools should use this funding for specific activities to support their pupils to catch up for lost teaching over the previous months, in line with the guidance on curriculum expectations for the next academic year.
How we are using the Catch Up Premium
At Springwell, we have decided to focus our spend on communication (including phonics), health and well-being. These have been identified as areas that many of our pupils have lost learning within during the Lockdowns. All three areas formed the focus for our recovery curriculum and IEPS during 20-21. In order to target the pupils who need to 'catch up' the most, a number of methods have been used. These include:
Identifying pupils and groups of pupils through soft and hard data (e.g. termly IEP outcomes, teacher recommendations, communication profiles)
Therapies or targeted support for individual pupils and small groups (e.g. Play Therapy, SaLT, EP support)
Programme specific training for SSAs and teachers to support our pupils to achieve more in the key areas (e.g. PECS, Makaton, Getting Started)
Resourcing key areas to supplement training (e.g. PECS, Spring into Phonics, Chillwell)
Below details the additional provision we will be putting in place, which will be funded by our "Catch-up Premium."
1) Targeted approach
For identified pupils and groups
Speech and language therapy
Y1 catch up programme
EYFS catch up programme
RWI targeted support
EP support for identified pupils
2) Teaching
Wider professional development to impact on teaching and learning:
PECS training for teachers
Makaton training for SSAs
Attention autism for teachers and SSAs
Plus resources to support training needs
3) Wider strategies: to be identified
Emotional and developmental play support for targeted pupils using Play Therapy

Creating a 'Feeding Team' for pupils with food related difficulties including advice for class teams and parents
Purchasing bicycles that are suitable for our older pupils to use to help increase levels of movement
How will impact be assessed?
Each individual part of the Catch Up Fund will be assessed in a method suitable for that area. This can take the form of data at the start and end of an intervention, individual reports / case studies, IEP achievement data, staff evaluations etc. Regular Catch Up Fund progress meetings take place half termly between the Catch Up Fund Lead and Co-Headteachers to continually assess the success of each area and plan next steps.