Super Sensory
Super Sensory provides a range of learning experiences and activities, all topic based around creativity. Explore each theme through sensory and creative ideas. Dance at a carnival, go to space, visit the seaside there are lots of categories to investigate!
Messy Play
Jo came up with the fantastic idea of coloured toast! See photos. You can have lots of fun with things at home like spaghetti, flour, rice, finger painting.
Try making some puff paint or rainbow spaghetti. You could try putting your hands and feet indifferent messy materials too.
Create a rainbow foam bath using washing up liquid, water and food colouring!
Make a giant art attack using different messy materials- take a photo we would love to see some of your ideas!
There are lots of great ideas here too https://metro.co.uk/2015/04/24/15-wonderfully-messy-and-creative-play-activities-to-do-with-your-kids-5164886/
Messy Play Photo Ideas: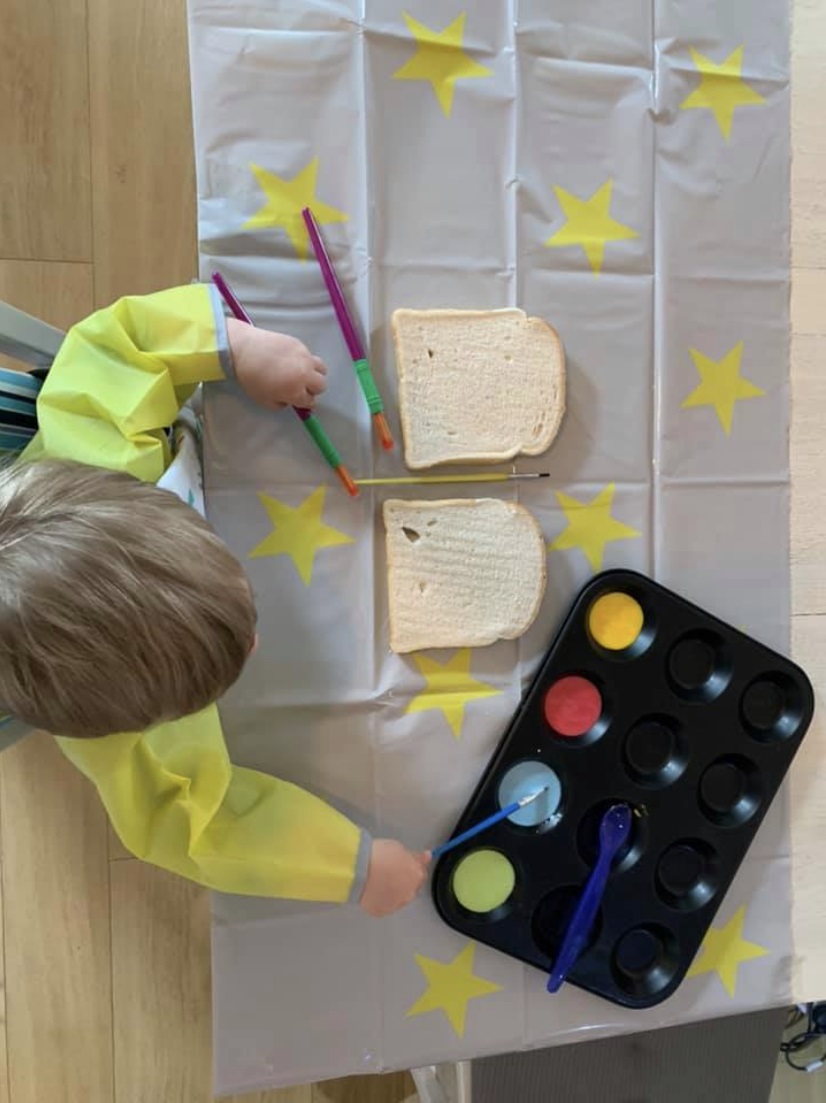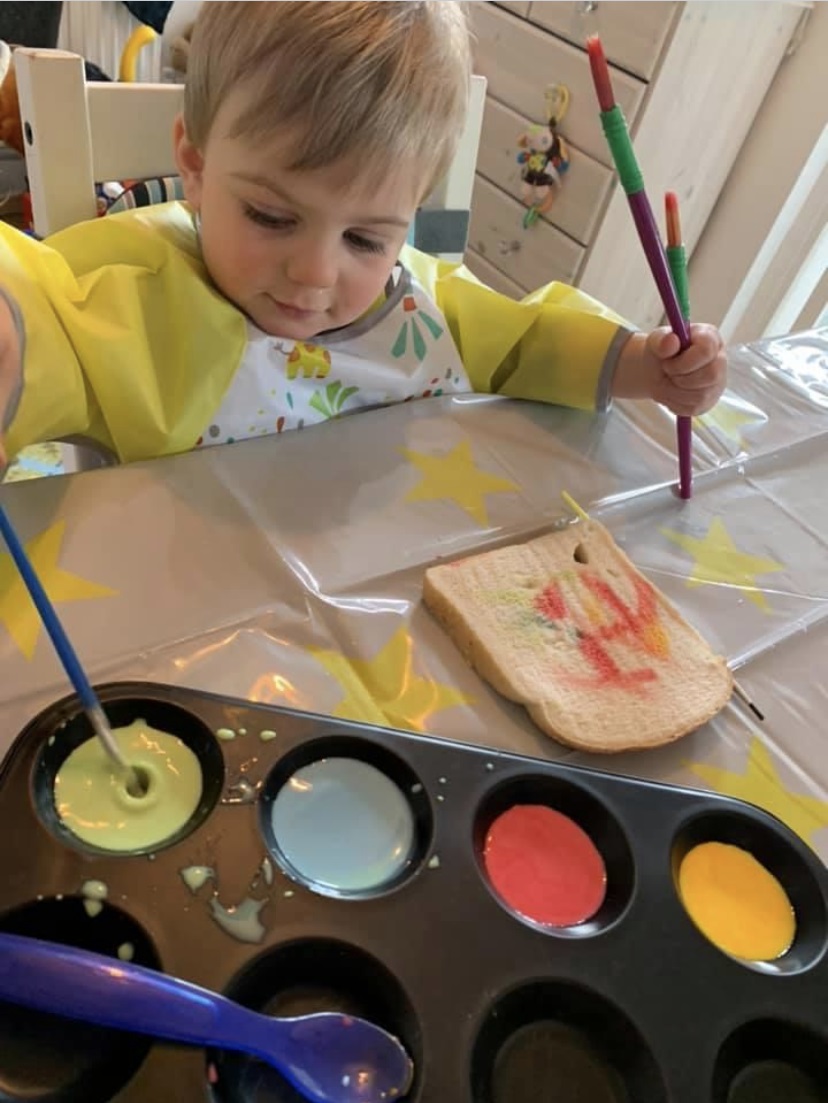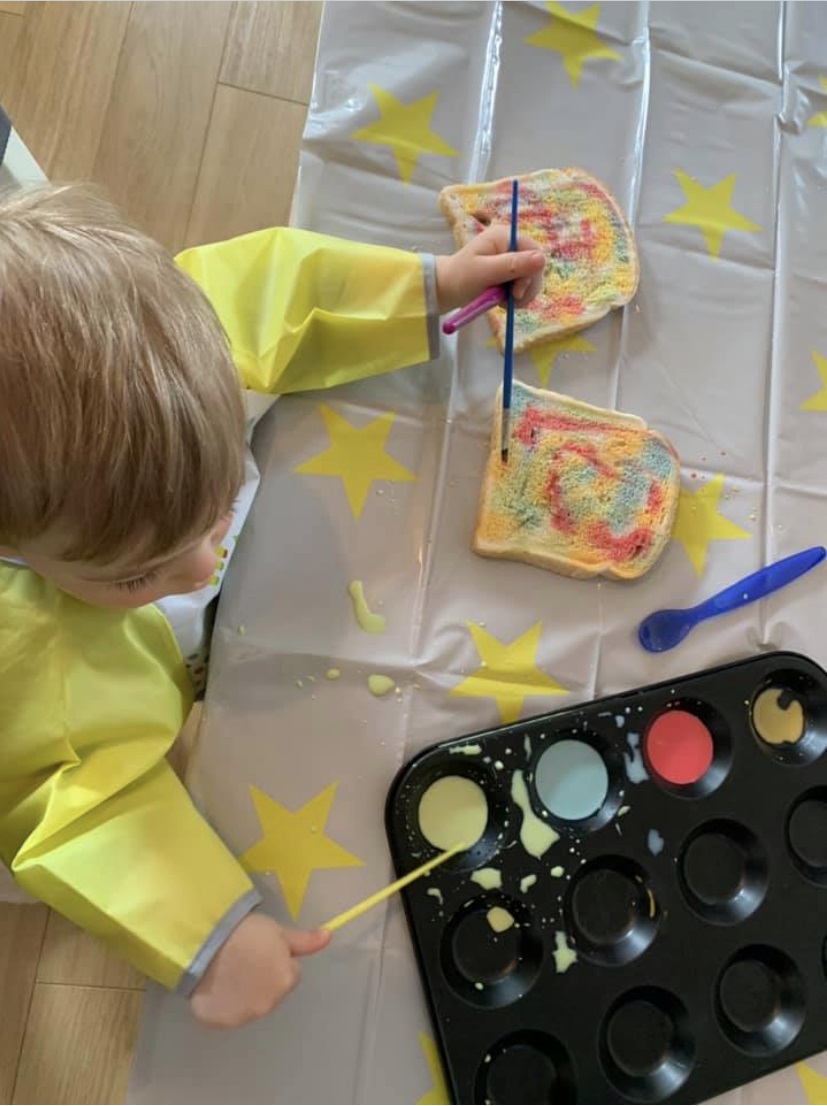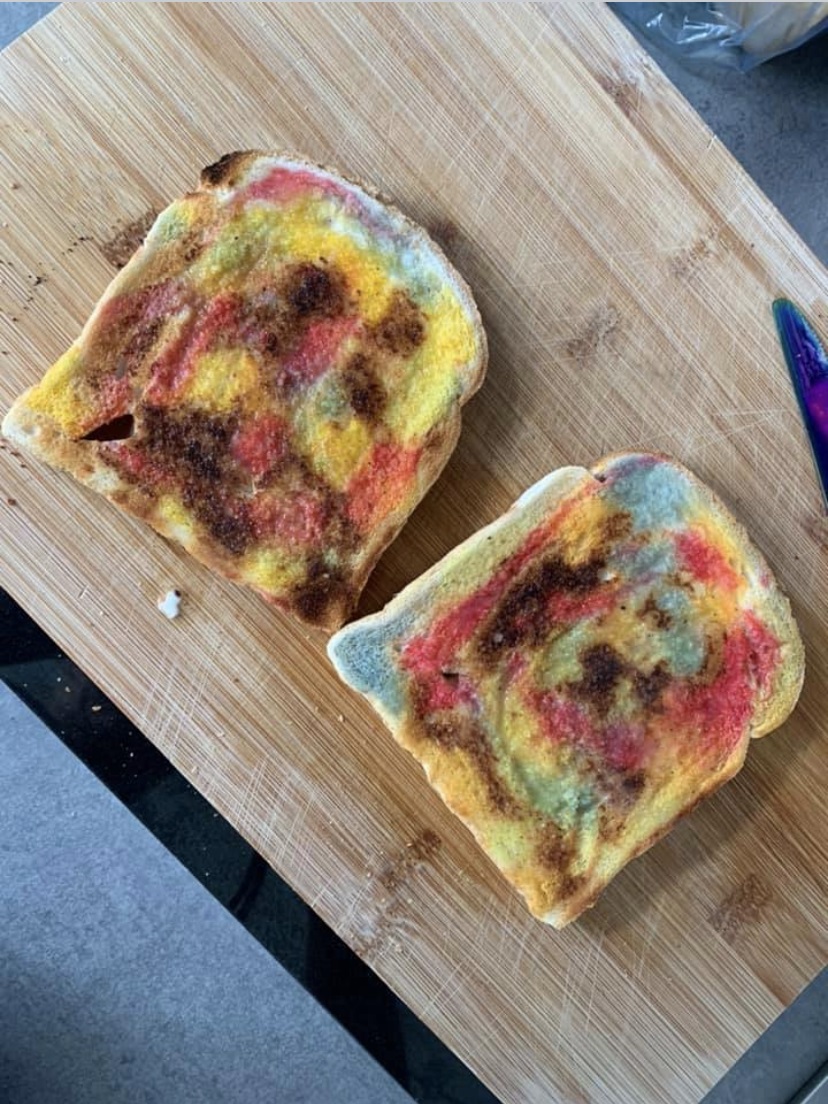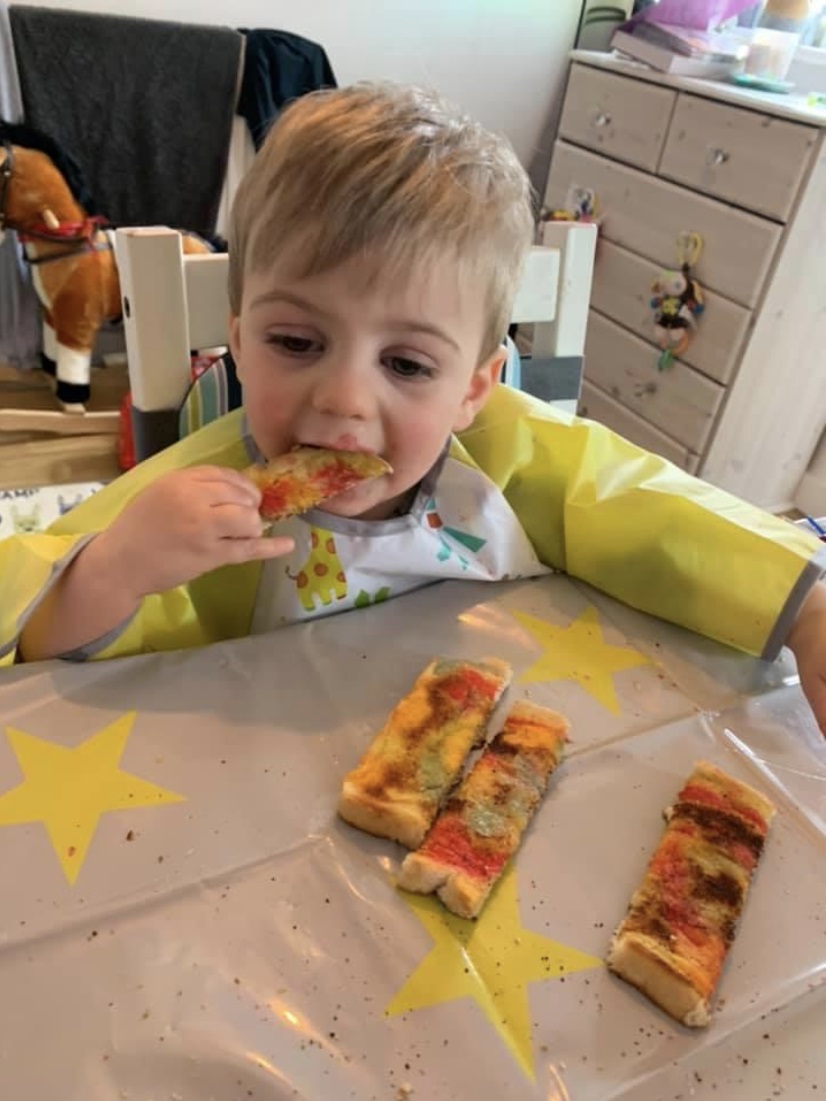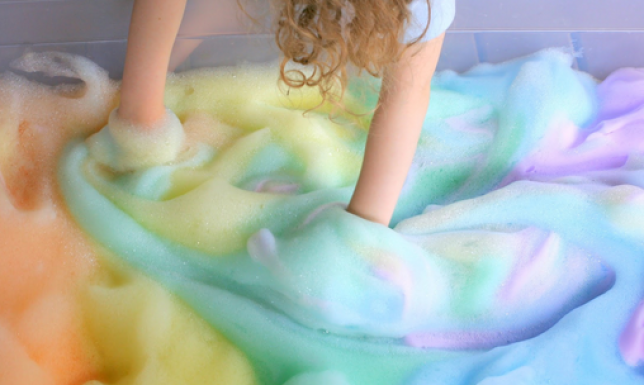 Messy Play Activity Sheets
Puppets
There are lots of ideas here for cardboard roll toys, paper bag puppets, sock puppets, paper puppets and wooden spoon puppets.
You could draw faces on your fingers with washable pen to create finger people.
Or create a finger puppet https://www.redtedart.com/how-to-make-a-paper-mouse-finger-puppet/
You could try retelling a familiar story or looking up a puppet show to watch.
https://www.bbc.co.uk/cbeebies/radio/something-special-puppets
https://www.bbc.co.uk/cbeebies/makes/the-lets-go-club-finger-puppets
https://www.bbc.co.uk/cbeebies/watch/lets-go-club-putting-on-a-puppet-show
Use the printable to create a superhero puppet
Could you make yourself into a puppet?
Shadow puppets are great fun and easy to do Have a go at trying to make different shapes with your hands.
Puppet Photo Ideas: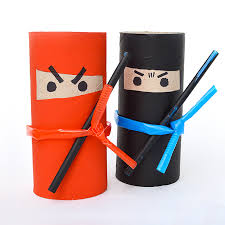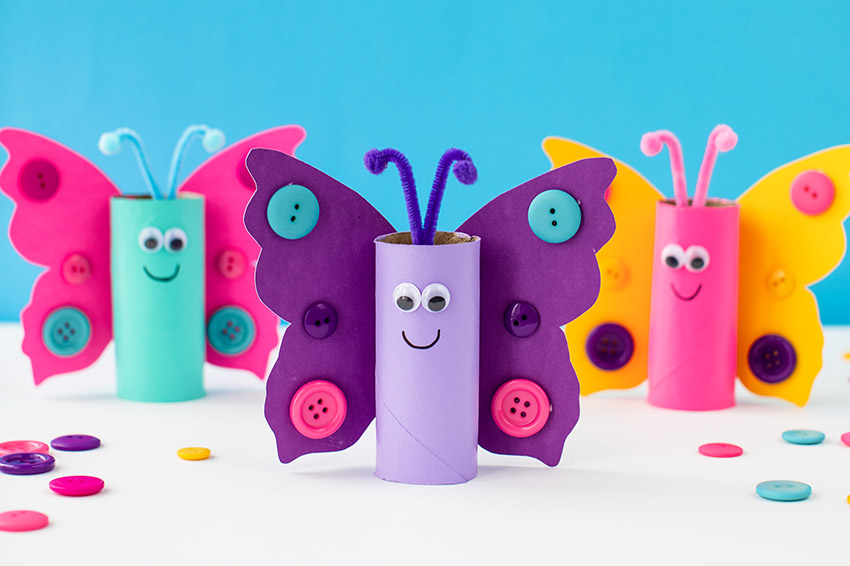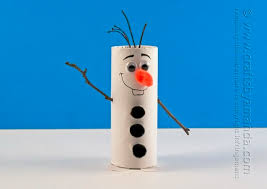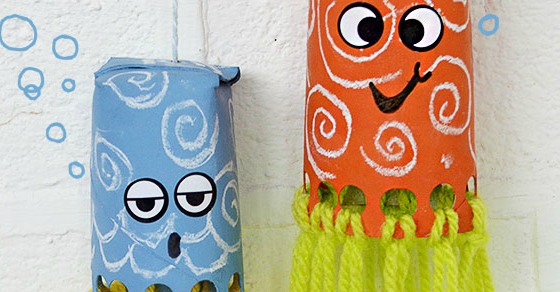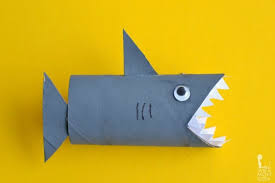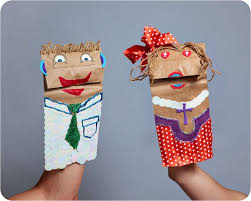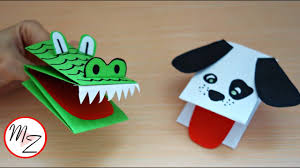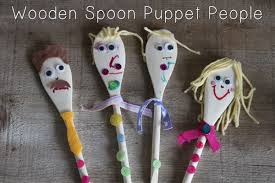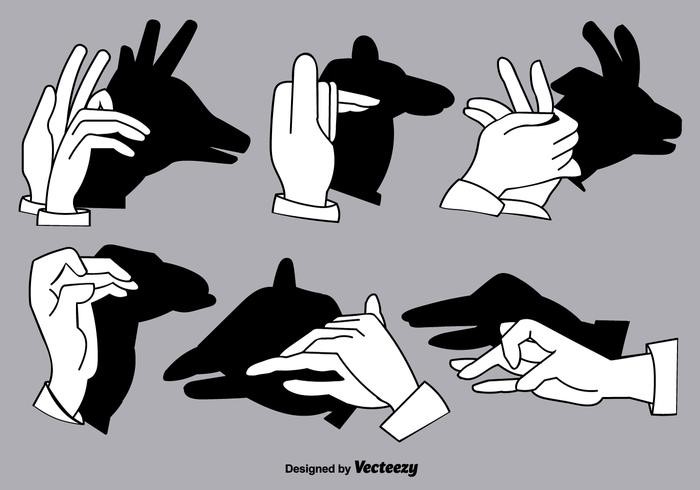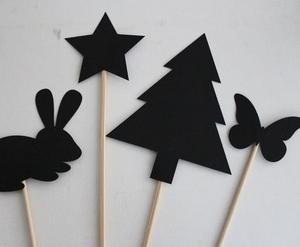 Puppet Activity Sheets:
Texture
Dry sensory and texture ideas - pasta, rice (colour it to make it a bit more exciting with food colouring), shells, sponges, scourers, pom-poms, cotton wool, pipe cleaners, feathers, different fabrics (e.g. blankets, scarves), wool, bubble wrap (can wrap feet in it and walk to hear the effect), buttons, sequins, Lego, sand
Wet/sticky sensory - shaving foam, bubble and water trays, water beads, gloop (cornflour and water), paint, cooked spaghetti, jelly
Create a squishy sensory bag- using a zip lock bag or plastic zippy folder, add hair gel and food colouring maybe even some glitter or sequins. Lock the bag and begin to explore and move. If you tape this closed with some gaffer tape it will last really well. A lovely relaxing tactile activity.
Ice blocks – freeze different objects like fruit or grass in yoghurt pots and explore the cold icy blocks
Bubble wrap painting/ exploration. Bubble wrap is a lovely sensory material to pop or print with.
Cereal is a great tactile sensory material as it comes in many different textures. Have a go at crushing it with your hands, or maybe even your feet for a fun sensory experience. If you collage with cereal and glue it creates a great texture to explore.
Have a go at making some different textures to eat. Cornflake cakes, rice crispy cakes and flapjack are all very textured and maybe fun to explore.
Explore different material throughout your home and label these. Can you find a material that is rough, smooth, shiny, bright etc
Create a collage or picture using different materials you can find at home. Create a nature collage using different textures you find outside or in your garden.
Explore clothing- some clothes are soft, some are smooth, some are bobbly, some are woolly
There are some pictures for inspiration, use sensory materials to create a textured walk to explore different textures underfoot and how they can change. Are they rough or smooth? Loud or quiet?
Make some different textured sensory trays, make sensory texture boards (e.g. stick different items to cardboard for children to feel and compare)
Make sensory shoe boxes for children to put their hands in and feel
Use different texture materials to make letters of the alphabet/numbers
Create a cling film aquarium https://www.bbc.co.uk/bitesize/topics/zhjqtfr/resources/1
Collage https://www.bbc.co.uk/bitesize/topics/z749q6f/resources/1
Texture Photo Ideas: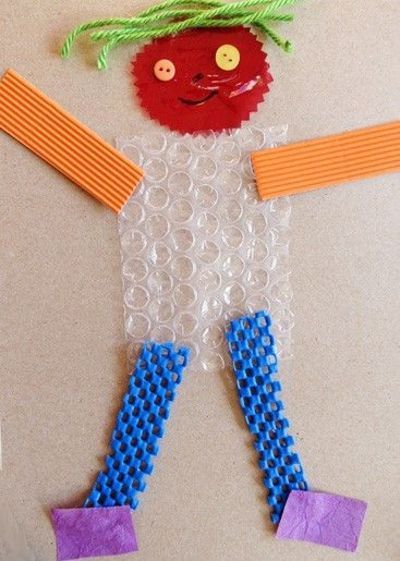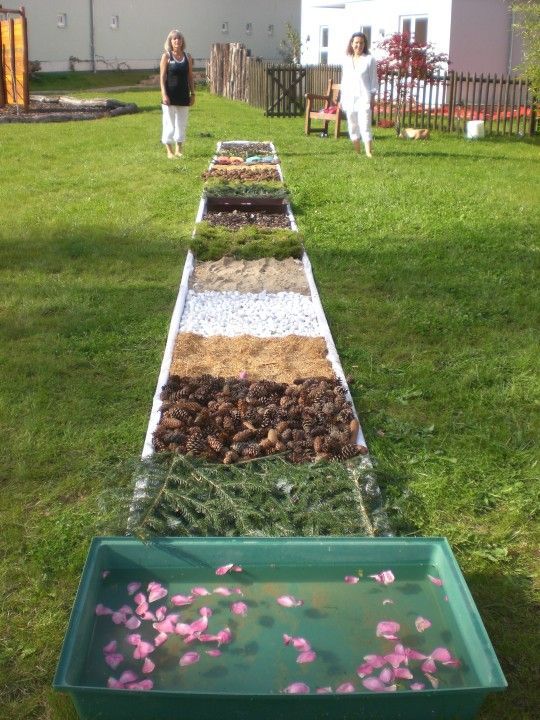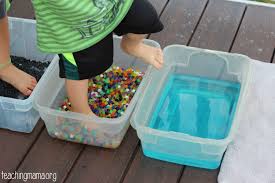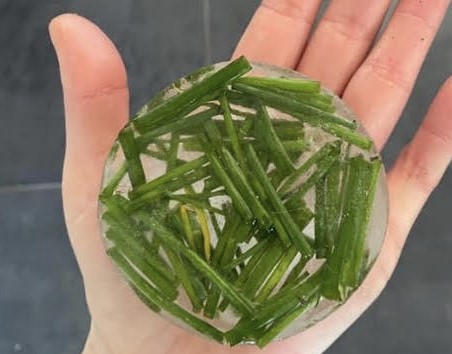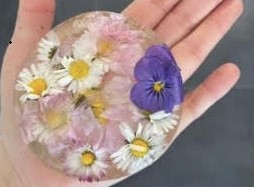 Carnival
Have some fun with colour, texture and sound. Explore different masks, costumes and homemade games. You could have a go at tin can bowling, splat some shaving foam ice creams, dance to some carnival music. There are lots of fun and colourful ideas to explore .
Make a carnival headdress https://www.youtube.com/watch?v=yr7HQXM8sR4
Decorate a mask
Try some face painting or dressing up
Have a go at a homemade game like tin can bowling or throwing balls into different sized containers.
Create a paper plate clown face (use coloured cooked spaghetti for the clown hair)
Create a popcorn sensory tray (fill and empty containers)
Make a candy floss collage using cotton wool
Water balloon play
Use shaving foam to play ice cream splat. If you have small cups, or you could make a paper cone, spray shaving foam on the top to create an ice cream and then splay them. Great fun!
Make some balloon ball rice juggling balls https://www.youtube.com/watch?v=gL3Pg1ThiW0
Make juggling balls with socks and rice https://www.youtube.com/watch?v=UWvMyg2duFA
Make a carnival sensory tray – see photo add rice, ribbons, pom poms, animals
Do some carnival inspired just dance on youtube.
See ow Miriam celebrates carnival https://www.bbc.co.uk/cbeebies/watch/lets-celebrate-carnival2
Make a hat https://www.bbc.co.uk/cbeebies/makes/lets-celebrate-carnival
Sing along to the colour carnival song https://www.bbc.co.uk/cbeebies/watch/cbeebies-house-songs-colour-carnival
Carnival Photo Ideas: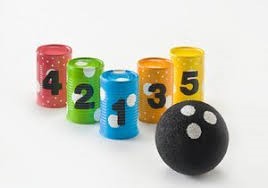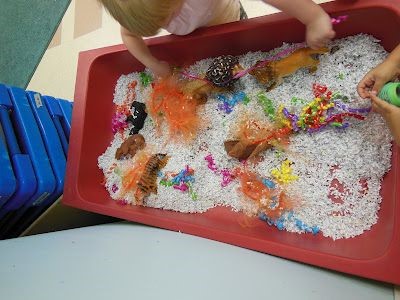 Space & Planets
Create a squishy sun or planet using paper paint and cling film, a great sensory activity see photo
Use the Twinkl resources and instructions to create a cardboard tube rocket, hand and footprint aliens, paper plate flying saucer, space themed printing picture, space ship porthole
Use the Widgit resources to position the moon and the space man.
Paint or create your own planet using a round paper cut out
Use our resource to write about your own Alien.
Make a galaxy jar using paint, glitter, water and cotton wool. Put the contents in the jar and see it absorb and swirl. See photo
Make space-themed sensory bags (shower gel, glitter, sequins/stars etc.) or sensory bottles,
Make play dough planets or make moon rocks with tin foil
Try star printing with paint and a star biscuit/play dough cutter
Shaving foam print planet lesson from Oak National Academy https://www.thenational.academy/specialist/creative-arts/planet-and-stars-picture-specialist-wk3-1
Create a balloon stamping solar system https://wonderfuldiy.com/space-themed-kids-crafts/balloon-stamping-solar-system/
Exploding Jupiter fun https://fun-a-day.com/fun-science-space-theme-fizzing-planets/?hc_location=ufi
Magic space dough https://theimaginationtree.com/black-sparkle-play-dough/
Planets song- https://www.youtube.com/watch?v=mQrlgH97v94
Dick and Dom introduce Mars from the planets by Holst https://www.bbc.co.uk/programmes/articles/14ZjT5yjnKQRdKVsqrLzk1x/mars-from-the-planets-by-gustav-holst
Stargazing- https://www.bbc.co.uk/cbeebies/shows/stargazing
Space information https://www.esa.int/kids/en/home
Space information https://www.nasa.gov/kidsclub/index.html
Space Crafts- https://www.iheartartsncrafts.com/20-outer-space-crafts-for-kids/
Space Photo Ideas: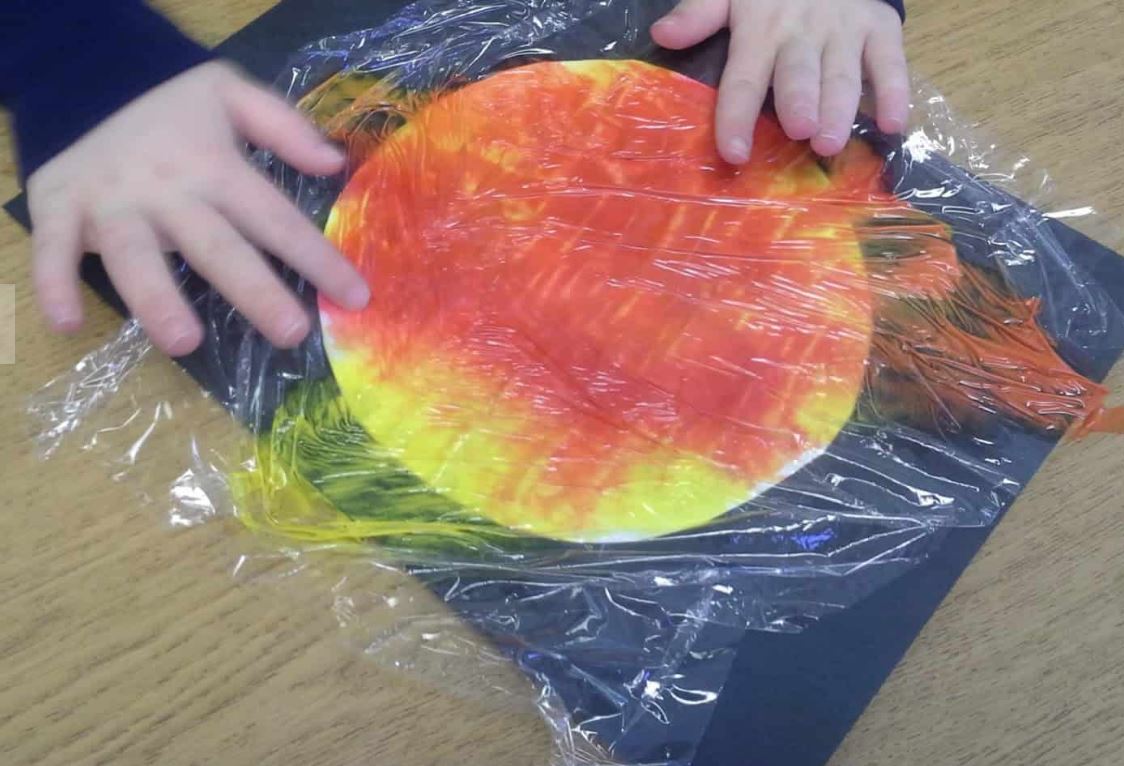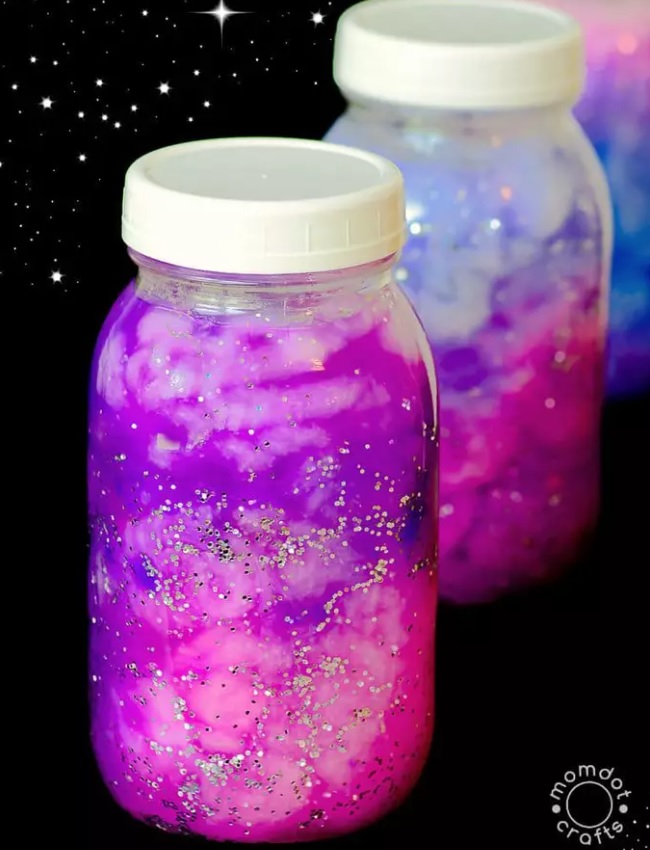 Space Activity Sheets:
Water Play
Chasing and catching bubbles works on both gross and fine motor skills. Can you try and catch a bubble without popping it?
Counting bubbles
Using opposites with bubbles- up and down, near and far away, high and low, big and small. Using bubbles in this way can help to develop sentences structure and comparative language.
Use different objects to blow bubbles, you could try a kitchen spatula, a cookie cutter, a pipe cleaner bubble wand.
You could create a Bubble Tower Photo
You will need a plastic glass, water, drinking straws, some washing up liquid and a tray/ something to contain the overflowing bubbles. Simply put a small amount of water in each cup and add a few drops of washing up liquid. Before you start remind your child that they need to blow OUT and not suck IN. You can have your child practice this first, by blowing through the straw to move a tissue or pompom across the floor or table. When you are ready put the straw in the cup and blow! This is really fun, the sound of all that gurgling and bubbling happening in the cups sounds great. Then of course, there are the bubbles! They grow and expand, spilling over the edges of the cup. The more you blow, the bigger and higher the pile of bubbles becomes. It's fun to see who can blow the biggest bubble tower. It's fun too, to stick your fingers into the tower of bubbles to discover how wonderfully light and airy they are!
Water Painting is great fun outside. You just need a paintbrush and a tub of water. You can trymark making, patterns, letters, words
Explore floating and sinking with different objects.
Make bottle top boats see photo
Or create some ice boats https://www.learning4kids.net/2012/03/29/ice-boats-water-play/
There are some lovely water experiments here https://www.science-sparks.com/challenge-and-discover-water-science/
Fill a water pistol with a few drops of food coloring and water. Squirt it onto paper to write your name/ draw pictures/ mark make
Wash toys in a tub and explore items that float and sink
Water trays with containers, spoons, whisks to pour and mix
Straws with water in a bowl to blow bubbles.
Make some rainbow Bubble soap foam using washing up liquid, water and food colouring see photo
Try some Ice painting - pour water into ice cube trays and add different food colourings. Place a lolly stick in each and let them freeze. Then grab a big sheet of paper and use the ice lolly sticks to paint with.
Water Play Photo Ideas: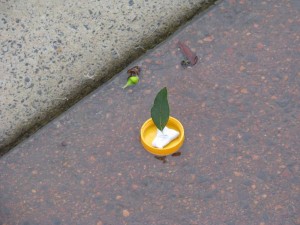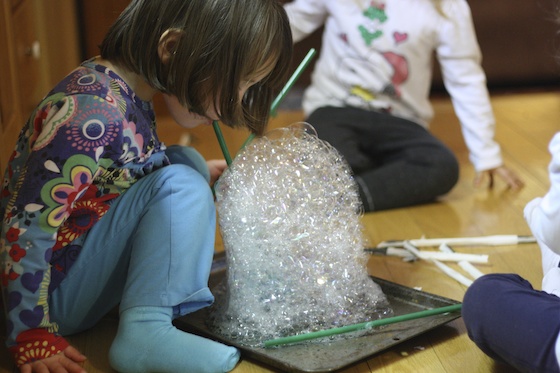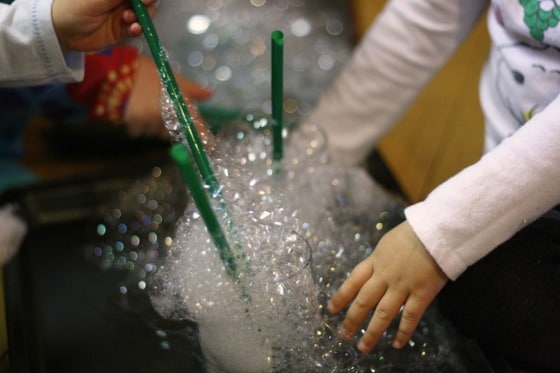 Earth Art
You can have lots of fun using natural materials or engage in some creative play themed around the earth
http://rochecourteducationaltrust.co.uk/projects/multi-sensory-art-project/super-nature/
This is a wonderful resource where you can explore 'Super Nature' virtually using your senses. Use the link to enter and then click on the images to view video clips on some fantastic resources.
Create a nature art picture using natural materials- see photos These are some bugs were created using things found in the garden can you guess what they are?
Collect some twigs and press into playdough to create a playdough tree.
Use natural materials to draw around or paint over to create a stencil – see photo
Print using natural materials such as leaves- see photo
If you have some googly eyes, or create some paper ones you can make a leaf person- see photos. You could create different people using different leaves.
Take some photos of colourful, natural things you see outside.
Take part in a nature hunt- see resources.
Head outside and look for
brightly coloured wild flowers
fluffy dandelion clocks
leaves
a feather
spotty ladybirds
a smooth stone
An excellent idea from the Woodland Trust is a tiny treasure box (see photo) https://www.woodlandtrust.org.uk/blog/2020/01/nature-scavenger-hunts/
Try painting with different types of plants/ leafs. Herb painting is very sensory if you try something like Rosemary. – See photo
Try using sticks, leaves, pine cones etc for painting/mark making
Collect sticks and paint different colours to make a rainbow picture.
Collect pine cones whilst out walking and paint them upon return. Add some sparkle if you have some glitter available
Do some bark and leaf rubbings to create a pattern
Make a happy face using resources from a walk/ your garden
Can you write your name using resources you've found on a walk/ in your garden? See photo
Paint a pebble/ stone and post your design on Tapestry
Make an Earth collage - tear blue and green paper/tear pictures of the sea/trees/grass
Make pictures using items on your walk/in the garden - grass, sticks, stones, flowers etc.
Paint the earth onto a paper plate, mixing blue and green colours (you could use different materials to print, e.g. bubble wrap
Make Earth slime - blue and green colours
Earth Art Photo Ideas: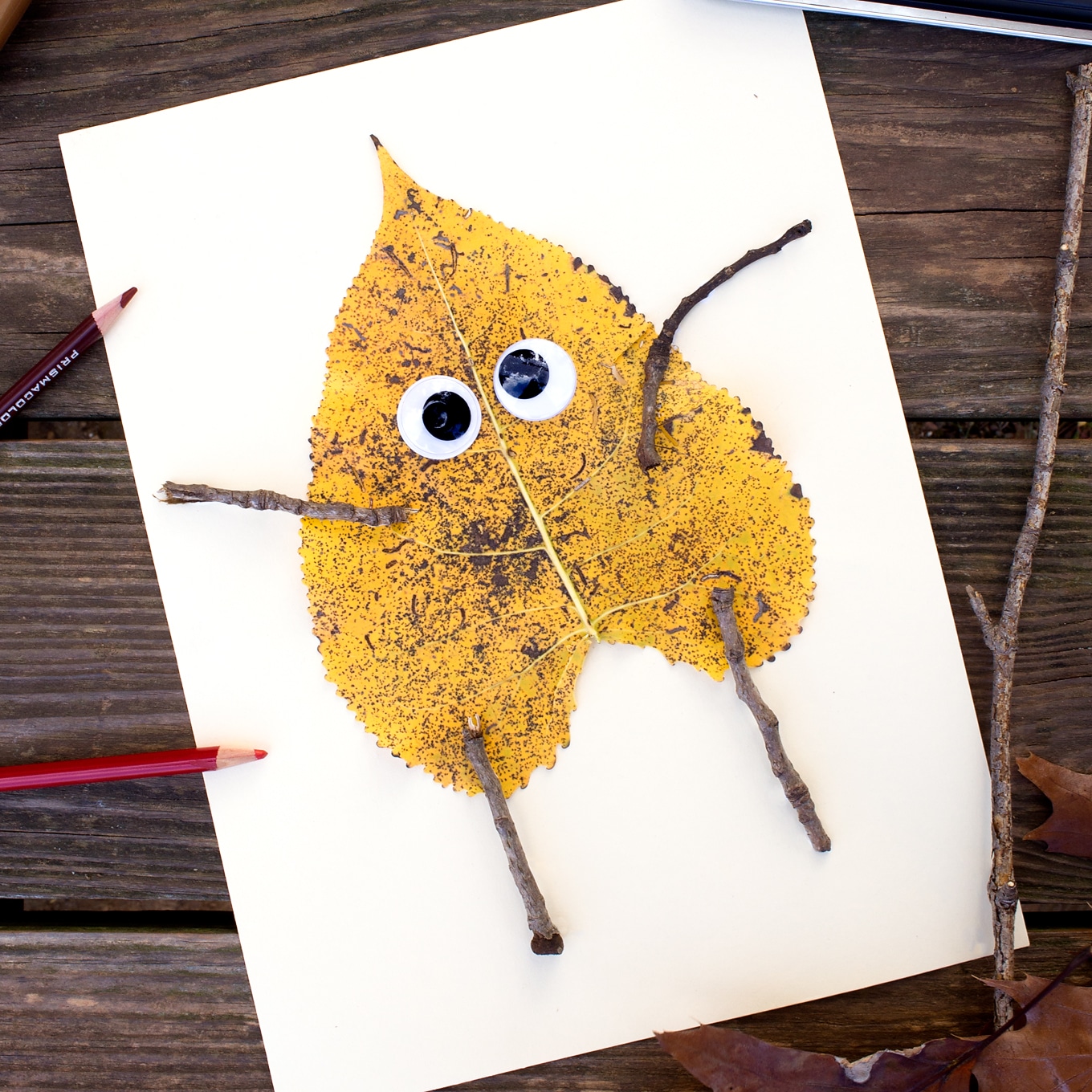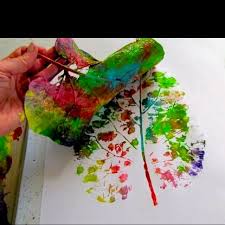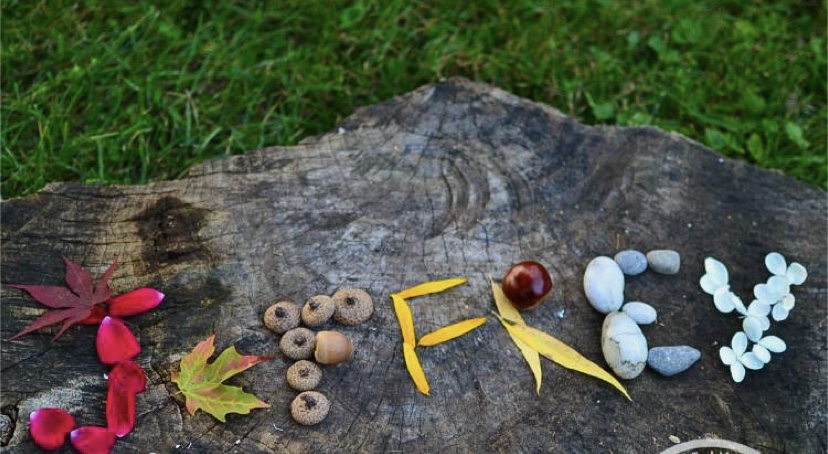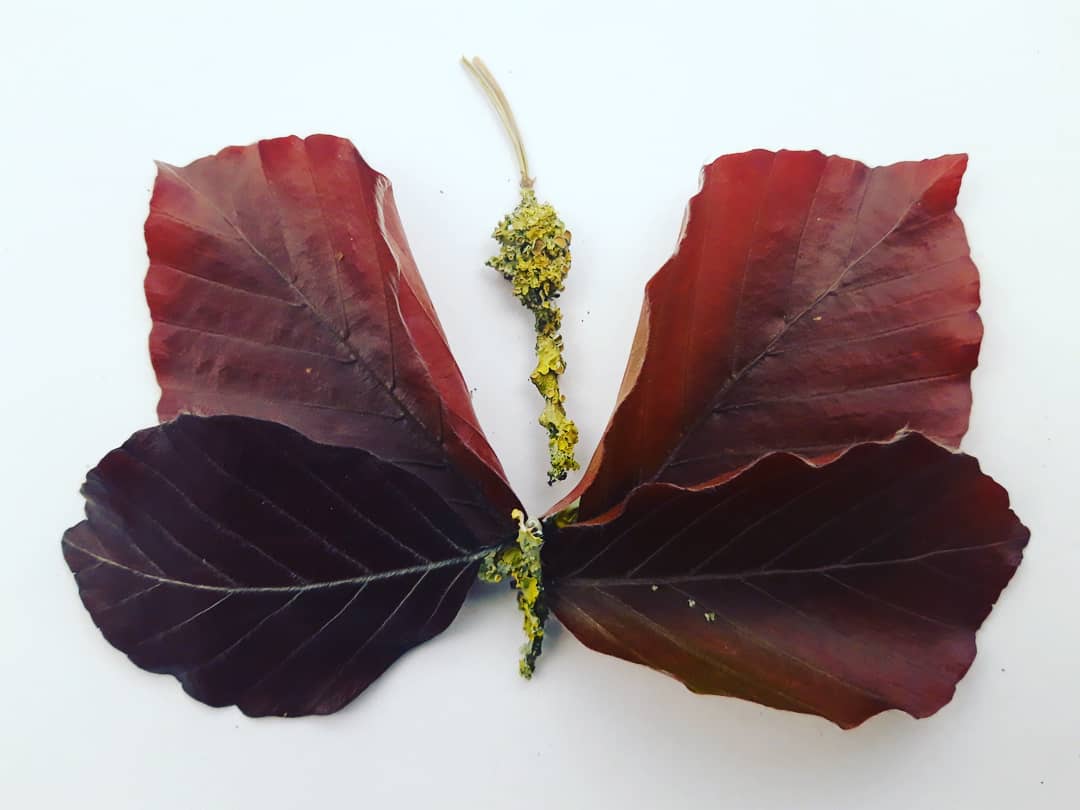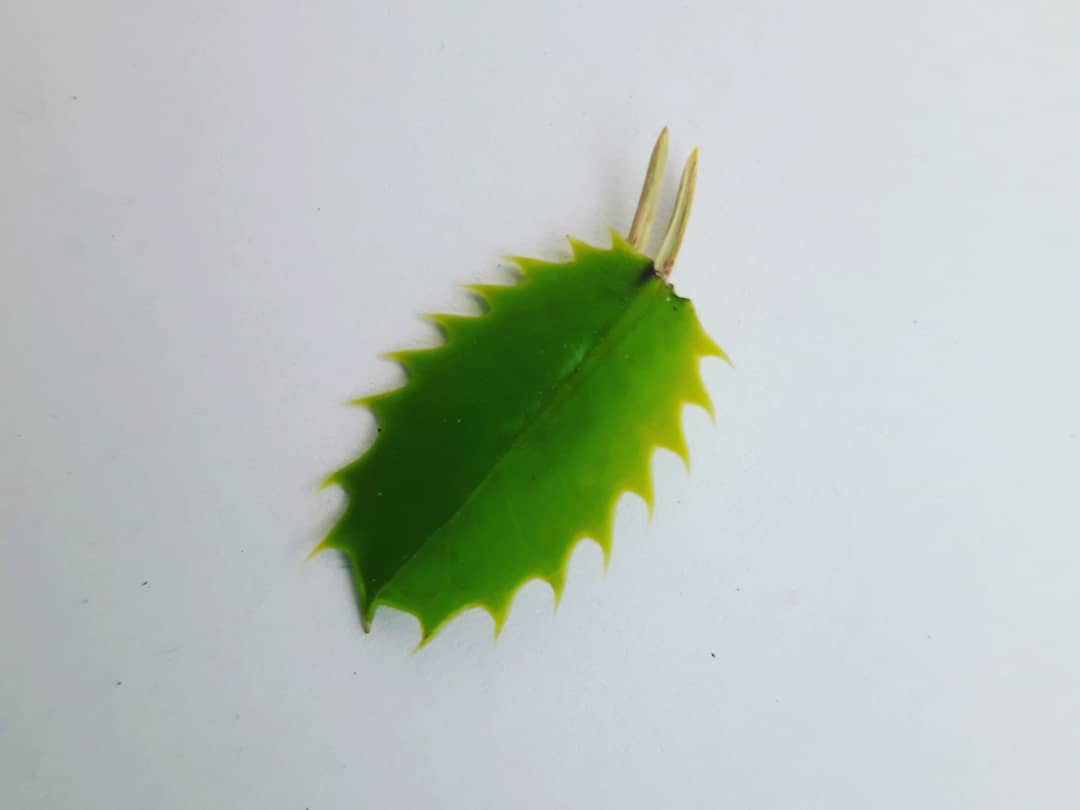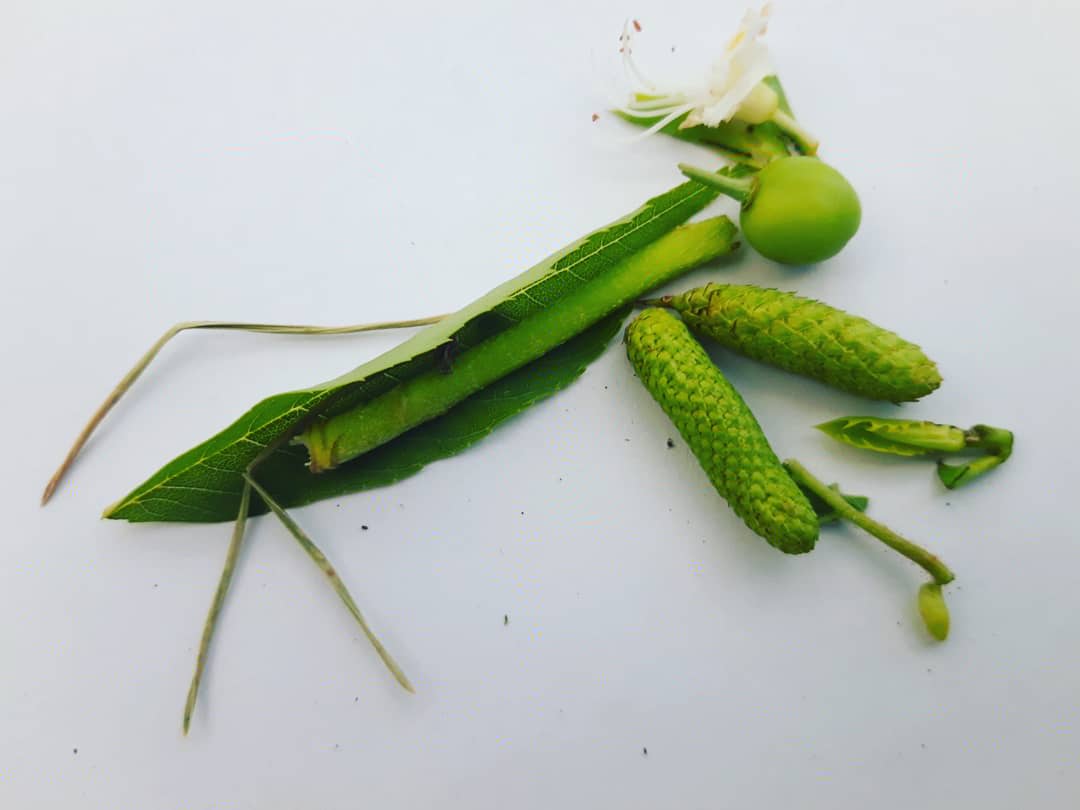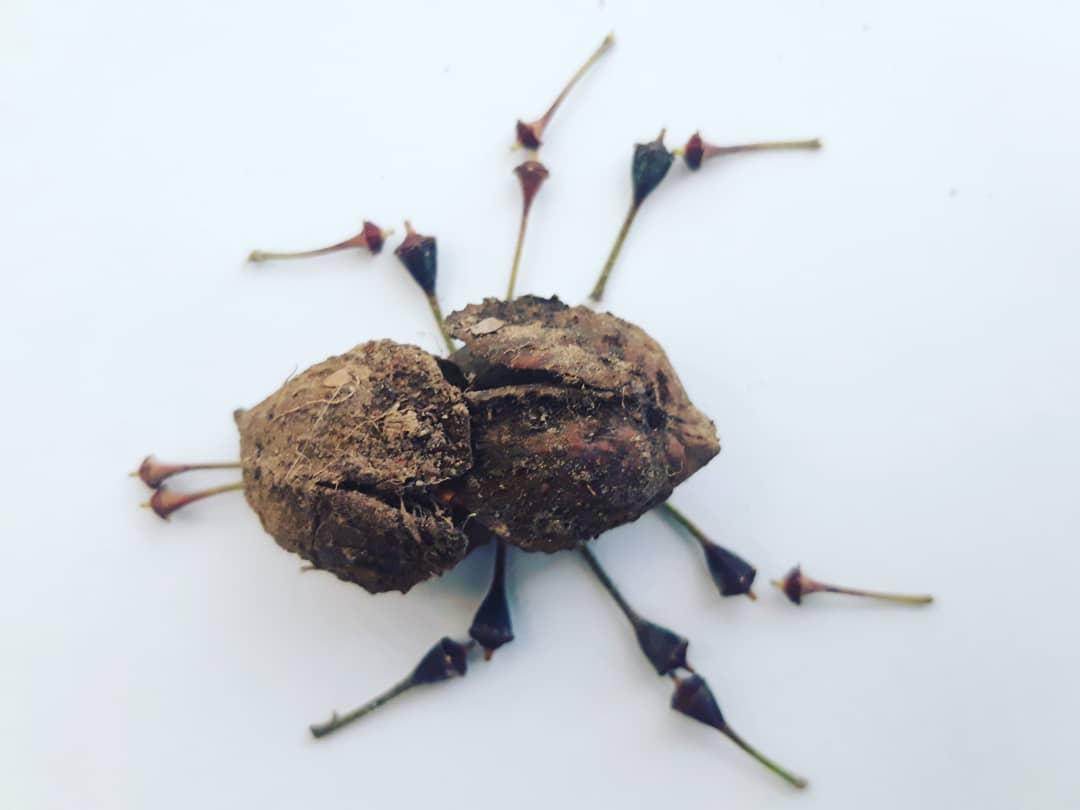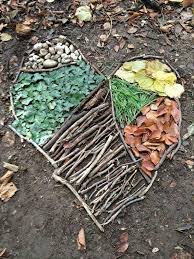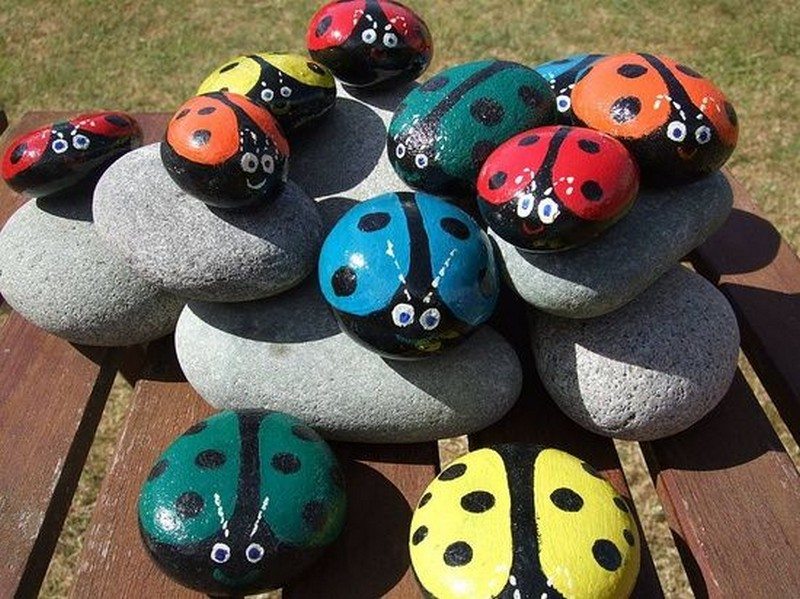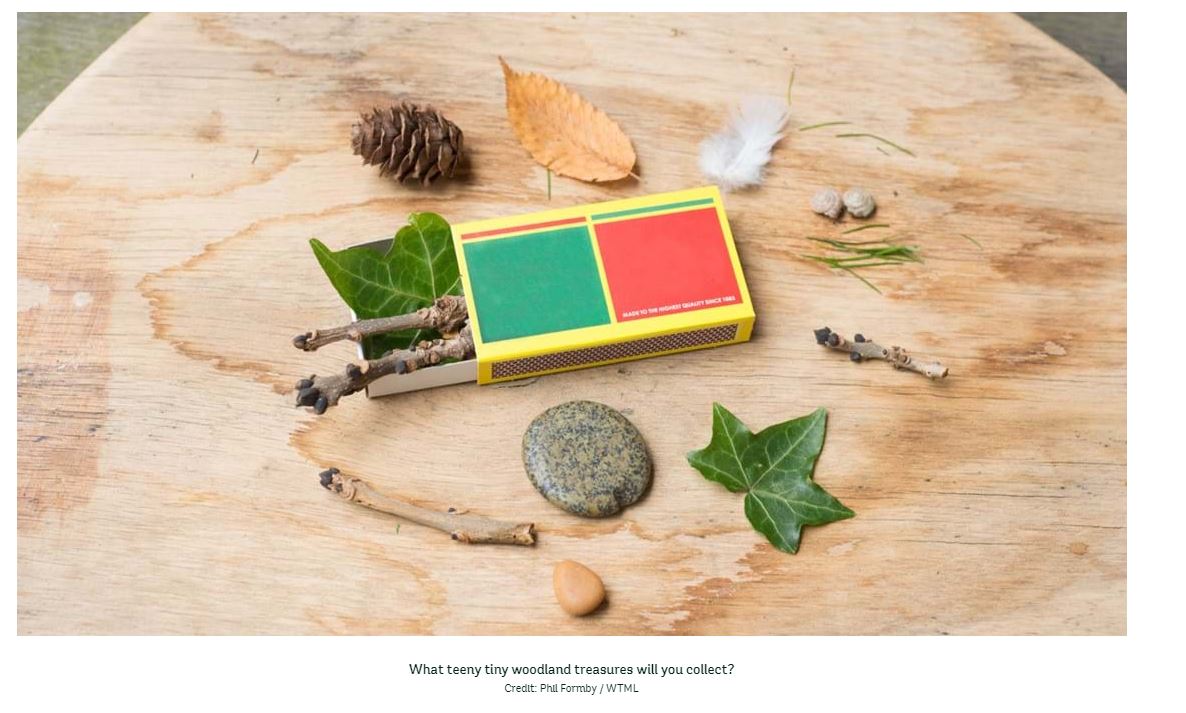 Earth Art Activity Sheets
Sculpture
You can have a lot of fun creating your own models and sculptures using different materials, flour, sand, playdoh, bubbles even!
Create some salt dough, then model, bake and paint. Find the recipe here https://www.bbcgoodfood.com/howto/guide/how-make-salt-dough-recipe
Create some play dough. Fun to make and even more fun to play with. Find the recipe here https://www.bbcgoodfood.com/howto/guide/playdough-recipe
You could try some junk modelling and then label or write about what you have made.
Can you make an Elmer out of an old, emptied milk container? See photo It's a great way to recycle an old milk carton.
Cardboard and tinfoil are great materials for modelling and sculpture. Can you create a tin foil person? Or a cardboard structure or tower?
Can you make a castle out of old boxes? Perhaps for your barbies/ dolls/ teddy bears/ borrowers/ ants? Or even yourself if you have a big box
There are some great ideas here https://www.youtube.com/watch?v=N3Xo50640BA for recycling lemonade bottles into models.
Use the Max McMurdo and Twinkl instructions to create
A milk carton elephant
A talking bird
A racing car
A milk carton fish
Have a look at the photos for inspiration, you could try making a paper sculpture or your own robot using things you find at home. See photos
You could collect some leaves and make a leaf hanging ( see photo)
Or arrange some coloured lolly sticks or cardboard rolls to make an interesting picture/ model See photos
You could create a telescope/binoculars
Maybe try some messy sculpture and make a papier mache Earth
Build a bridge for cars/trains, perhaps for the ones you have made!
Make a photo frame with lolly sticks and decorate with sequins and glitter
Sculpture Photo Ideas: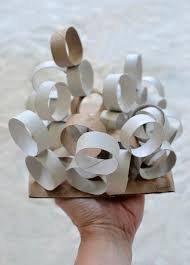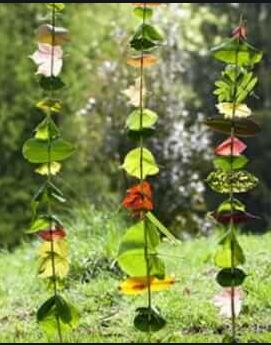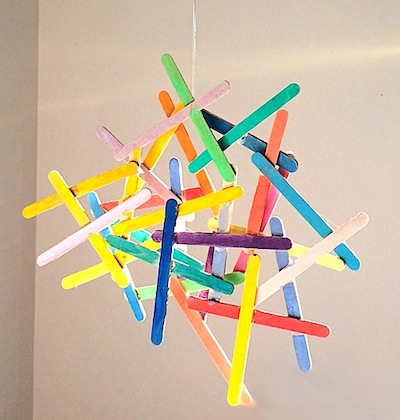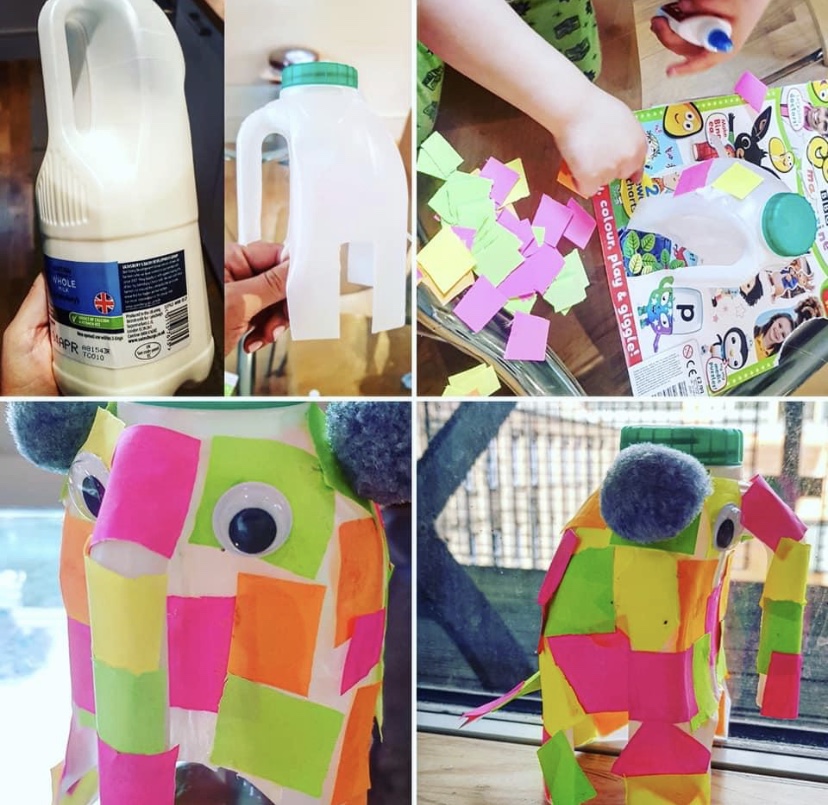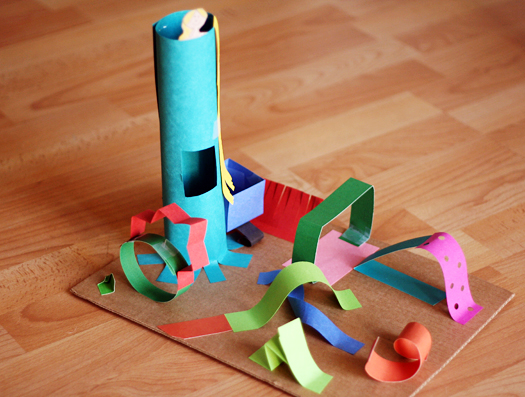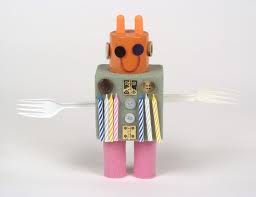 Sculpture Activity Sheets
The Seaside
The seaside is a wonderful place, full of sights, smells and fresh air! It's also very vibrant and colourful. Get creative with some of our seaside ideas.
Using a milk carton and with adult support, some scissors, you could make a milk carton seagull! https://www.edenproject.com/learn/for-everyone/how-to-recycle-a-milk-carton-into-a-beautiful-bird
Create some edible sand using 2 ½ cups of flour and ½ a cup of oil. Mix together and you are good to go.
Make a Seaside bottle with oil and water https://happyhooligans.ca/ocean-in-bottle/
Make a sea sensory bag- or make a den with blue material and make your own fish to hang and pretend you are under the sea.
Have a virtual visit to the beach with The Beach Sensory Story.
Use the Twinkl Seaside playdough mats to get creative with some seaside themed playdough shapes
There is a seaside labelling activity to have a look and identify the different features of the Seaside.
If you have some shells, or if you are able to collect some, they are fun to press into playdoh to make patterns. If you have some clay you can push the shells in and make pots – see photo
Create a seaside sensory tray using sand and water. You can add features such as people, boats, animals.
Use sand and water trays to put your feet in, changing from one to the other, exploring the different textures.
Build a sandcastle! If you have some digestive biscuits you can crumble these up to resemble sand too which you can eat.
Explore blue soapy sea foam water with shells etc – Make waves with shaving foam.
You could try mixing sand with paint to create textured paintings of the seaside or use buckets and spades to dig and make sand or flour castles
Can you make a fish out of recycled bubble wrap https://theimaginationtree.com/bubble-wrap-print-fish-mobile/
Seaside Photo Ideas: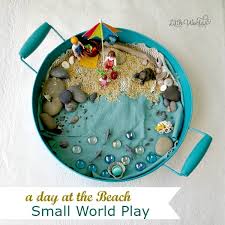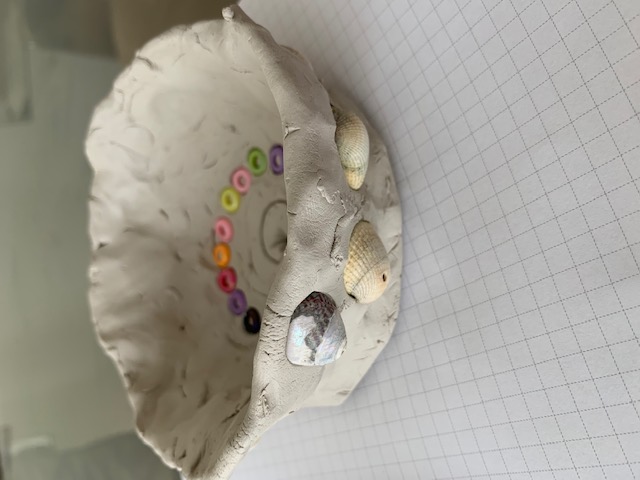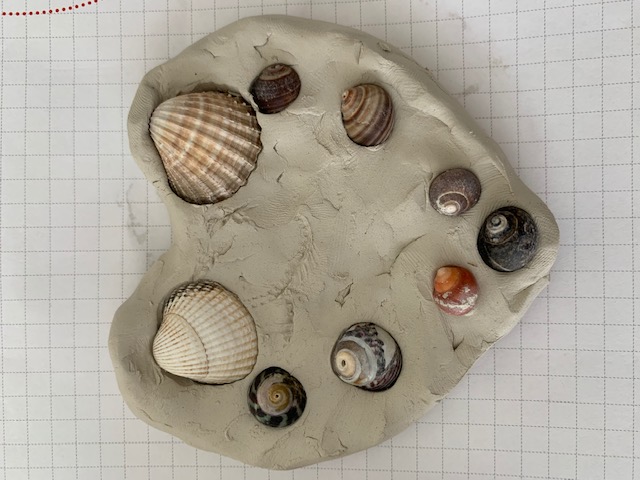 Seaside Activity Sheets
Plants & Flowers
There are lots of wonderful creative activities you can do with plants and flowers. You can use them to paint, collage, draw. Or you could have a go at growing some of your own or spotting wild flowers whilst you are outside. You could even try making your own plant potion or perfume.
Create flower/petal perfume (mixing and exploring with water and food colouring) or make a sensory trays using plant seeds.
Flower printing with paints is great fun and can make a wonderful pattern see photo
Do some gardening! Look after the garden by watering the plants.
Plant some cress/tomatoes/vegetables – You can use old tights or an egg shell to make a cress head see photo
Grow flowers in welly boots
Decorate plant pots with interesting patterns
Flower crafts - make flower pictures using cupcake cases, tissue paper, handprints, cotton bud daisies etc. – see photo
You can use forks to print flowers using paint- see photo
Paint a rock to create a pebble plant or cactus see photo
Freeze grass and flowers in water to make sensory ice blocks - see photo
Make pictures using plant leaves, flowers and other natural materials
Use daisies/ grass to count and sort
Use our Widget resources to sort and match plants.
BBC Learning https://www.bbc.co.uk/programmes/articles/Mf5rhbTkHLZ3fbJzScyDvC/primary-science-plants
Click on the flowers and plant with Curious George https://pbskids.org/curiousgeorge/busyday/flowers/
Flower Games https://www.primarygames.com/science/flowers/games.htm
Pinwheel flowers are very eye catching and you can see how they spin in the wind! https://www.firstpalette.com/craft-theme/flowers-plants.html
Learn about plants and seeds http://www.peepandthebigwideworld.com/en/educators/curriculum/family-child-care-educators/plants/activity/morning-circle/159/watch-and-discuss-peep-plants-a-seed/
Stories about gardening and growing
Eddie's Garden https://www.youtube.com/watch?v=OC0V3k_8F_U
The Surprise Garden https://www.youtube.com/watch?v=s5OgbkRF1es
The Curious Garden https://www.youtube.com/watch?v=6SHmN-wXykU
Plants and Flowers Photo Ideas: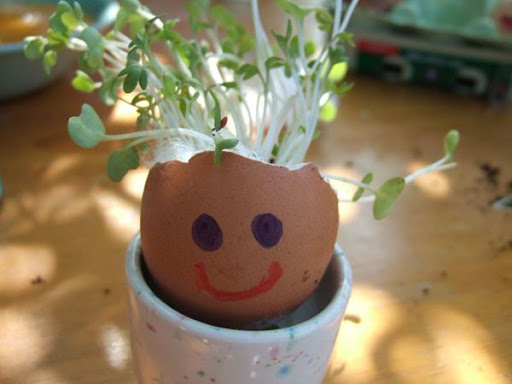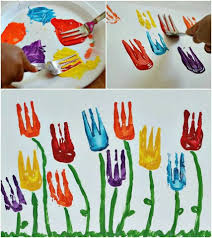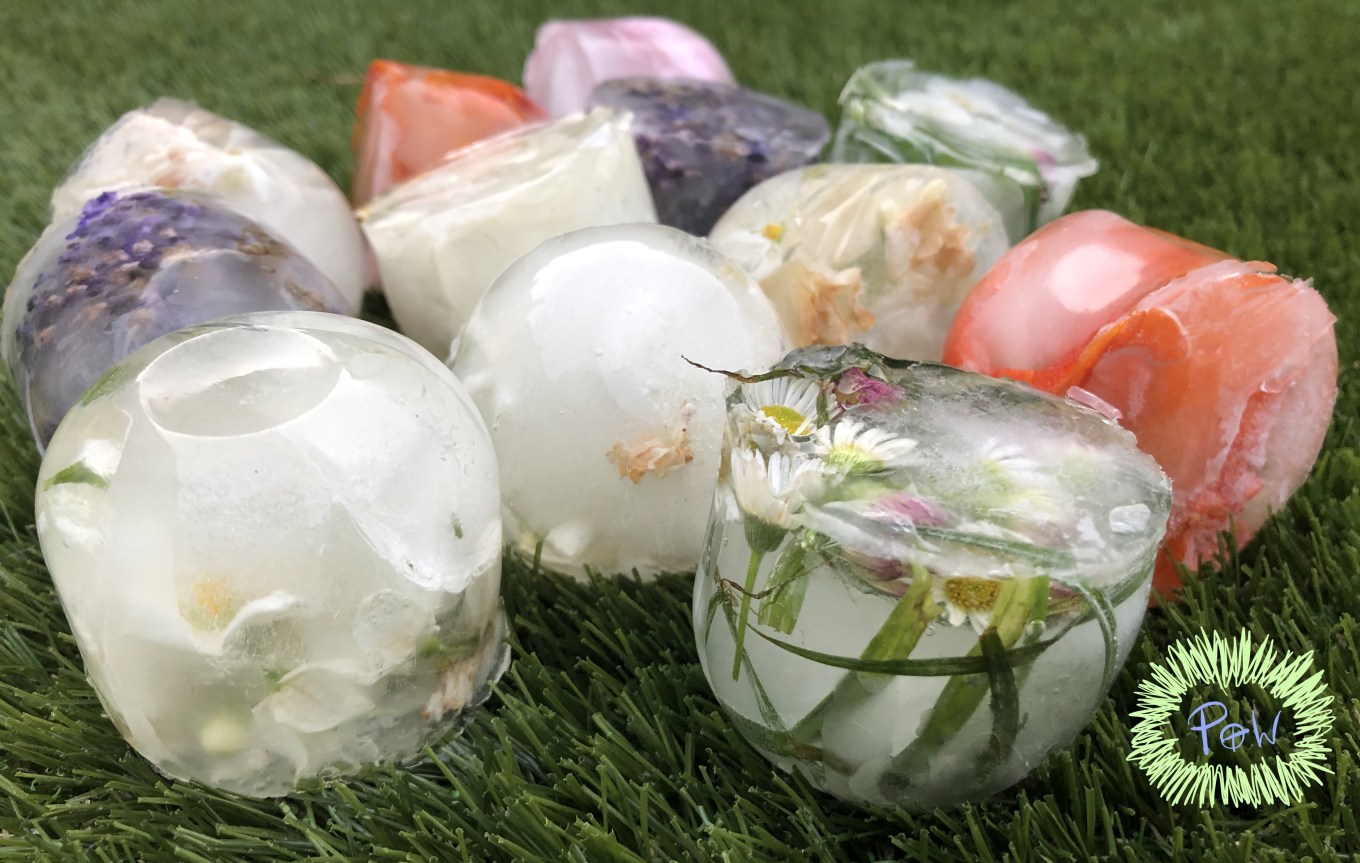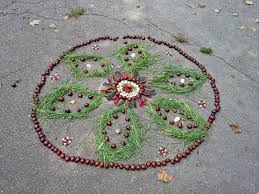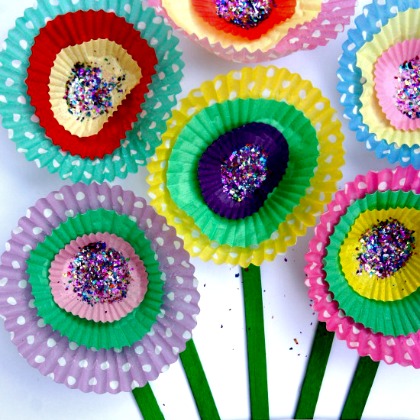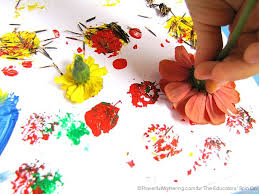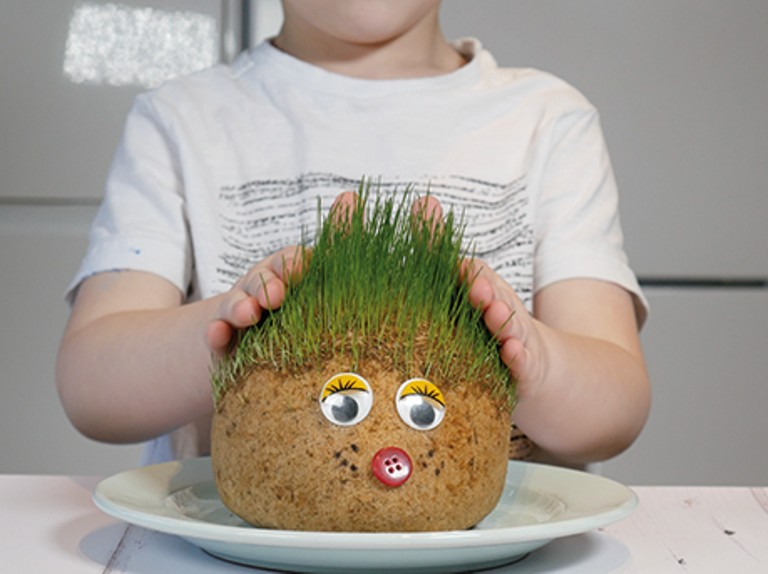 Flowers and Plants Activity Sheets
Patterns
There are so many different types of patterns you can investigate and try out. You can copy patterns, over write patterns using colours or objects. Create your own pattern using different materials. We have lots of fun and practical ideas using paper, craft, food and your body!
Make patterns with skittles and warm water- the colours from the skittles run into the water making colourful patterns
Shaving foam and food colouring patterns - make blobs of shaving foam, put food colouring on each blob to make a pattern and splat!
Shaving foam colour marbling - fill a tray with shaving foam, pour some food colouring on top (different colours), swirl the colours around to make patterns, place paper on top of the shaving foam, peel off and wipe away excess shaving foam using a ruler - a lovely swirly pattern should be revealed
Make patterns with bingo dabbers/cotton buds and paint/stickers. These can be repeating in colours or shape.
Colour rice using food colouring (a selection of colours) - pour rice into a bottle to make patterns
Thread coloured beads to make patterns - make a friendship bracelet
Make a tie dye t-shirt
Sorting toys into repeating pattern of colour or big and small.
Print with potatoes or inflate balloons and paint to make a repeating pattern or symmetrical pattern.
Draw symmetrical patterns.
Making a symmetrical butterfly painting.
Finding flowers outdoors and creating a repeating pattern.
Thread leaves onto thread or string in a pattern
Create a pattern by printing with leaves and paint.
Draw some waves, circles, lines and lay buttons on them to create a button pattern -see photo
Draw squiggles with a pen on white paper and then colour the sections in different colours to create a squiggle patterns - see photo
Use strips of paper to weave in and out to create a weaving pattern - see photo
Have a look at our fantastic weaving ideas and have a go at weaving your own tartan
Use chalks outside to draw or copy patterns
Make a puddle outside to splash in a create footprint patterns or handprint patterns
Try your own pattern of movements using jumps, hops, leaps
Have a look at our fantastic weaving ideas you can have a go at weaving your own tartan pattern online https://houseoftartan.co.uk/interactive/weaver/index.htm
Pattern Games https://mathszone.co.uk/using-applying/patterns-and-sequences/simple-patterns-ngfl-cymru/
https://www.topmarks.co.uk/ordering-and-sequencing/shape-patterns
Pattern Photo Ideas: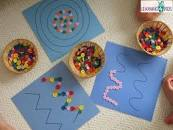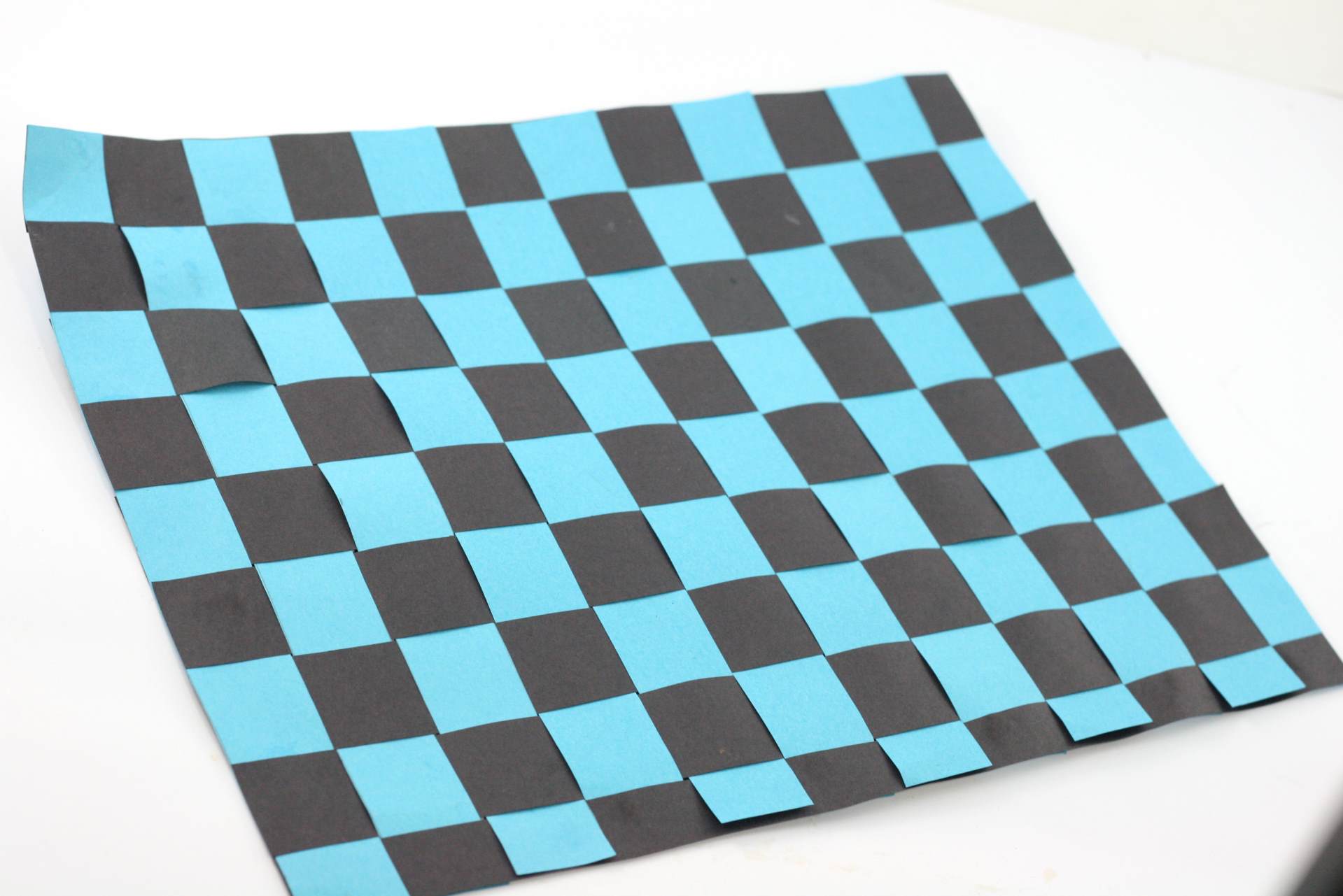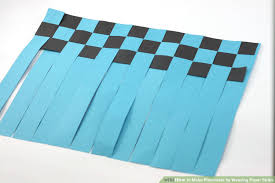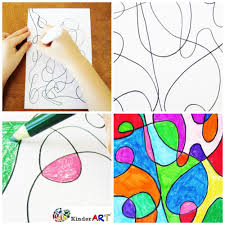 Pattern Activity Sheets
Household Objects
We have put together lots of activities you can do with things you find in the home. These activities can promote labelling, sequencing, following instructions, imaginative play, self-occupation skills, sorting, choice and fun!
Spray bottle– fill with water and spray the car outside, the shower glass, flowers on a walk etc- Good for hand strengthening and fun too!
Ladle– perfect for scooping small items or water from one container to another- great for fine motor skills
Gift bags– Gift bags are great for filling, emptying and transporting
Pot with water & measuring cups, spoons etc Practice those capacity and volume skills. Using language such as full/ empty/ more/ less
Old notebooks or calendaryou can role play, identity the days of the week and the numbers for the days
Masking tape or washi tape– perfect for using indoors because it comes off easily, or use it to make games, etc on the floor- a line to walk along, practising balance or hopscotch. You could make sorting/ sharing squares too!
Baking soda and vinegar– put baking soda in a cup on a tray, add vinegar and watch the bubbles!
Sink or float with random toys around the house–write down or select your guess before each one!
Kitchen tongs– just give them some tongs and let them go! These are great for fine motor skills, picking up different objects and transferring them. You could extend this by having a timer to see how many things you could transfer.
Paper rolls– make binoculars, telescopes, rain sticks, glasses, bowling pins, tower building and more
Taking everything out a drawer or cupboard– look at the sizes of things, the sounds, the materials, how they feel
Tea bags– take them out of the box, put them back in, stack them up, line them up in a row….
Pipe cleaners/ spaghetti and colander- poke them through the holes and pull them out. Or use the pipe cleaners with cheerios to thread onto them
String–wind string/yarn/ribbon around anything and everything or use it to do some threading
Washing up liquid and water to clean toys- Create a washing station with lots of bubbles. A lovely activity for the bath, or outside.
Beans in a jar with a screw tight lid– save a plastic bottle, add anything that will make noise like beans, lentils, pasta etc and put the lid on. Tape it shut if needed. Instant instrument
Pom poms in a whisk– show them how to push the pom poms in and then let them figure out how to get them out.
Clothes pegs or corks– clip some ribbon on to some boxes and have different size bottles to put the corks in- great for posting
Empty squeeze ketchup bottle with water– reuse old squeeze bottles in the bath or outdoors. Great for hand strengthening and fun too! You could use it as part of a washing up station
Torches– fun to make a shadow theatre or shadow puppets, inside a fort, under a blanket
Vacuuming– help with the cleaning, learn about plugging in equipment and switching them on and off.
Tape measure- Fun to measure things, compare lengths, look at all the numbers, identify different numbers
Stapler or hole punch– save scraps from art projects, drawings etc to staple and punch
Cardboard boxes– perfect for everything from decorating to rocketships to jumping on, help with the recycling
Shaving foam- multiple uses- splatting with a splatter, making a picture, using with food colouring to change the colour
Matching Tupperware with lids– see how quickly you can match them up
Magnifying glass– use around the house or on nature walks
Sensory bin with pasta, beans, oats or cereal– bury little toys to find or use scoops and spoons
Washing the dishes– more bubbly fun
Ping pong balls – throw them around, try to catch them in a cup
Plastic cups– stack them to make a tower or line them up for bowling
Laundry baskets– great for imaginative play or to transport items
Deck of cards– for simple games, workouts, dropping through a slot into a box or just throwing everywhere, counting and picking up
Pool noodles– make great imaginary play items
Potato masher- fantastic for printing with paint, splatting shaving foam
Paint printing with sponges (if you have a big car wash sponge, you can put a blob of paint for each colour of the rainbow onto the sponge in a line - then place the sponge on paper and move the sponge in a big arch to make a rainbow picture)
Pegs Make DIY paint brushes with pegs. Place a peg onto cotton wool/pom-poms/a sponge/fabric/tin foil etc., then dip in paint and do some wonderful mark making!
Plastic Bottle- Make a bubble snake with a plastic bottle, a sock, an elastic band, water and fairy liquid. This is a favourite!
Printing
You can use anything to print and make interesting patterns. A potato masher is a favourite! Perhaps you have stampers at home- or you could try making some from potatoes or sponge! We have lots of great printing ideas.
6 ways art and craft helps with learning https://www.bbc.co.uk/cbeebies/joinin/importance-of-art-and-craft-for-children
Try printing with natural items: flowers, leaves, stones you could print an outdoor pattern.
Printing with foods: potatoes, lemons/limes, apples, spaghetti all make interesting patterns. You can create different shapes using these items, try making letters with potatoes. Maybe you could print your initial.
Printing with household items/utensils: brushes, rollers, potato mashers, sponges, cotton wool attached to pegs, bottle lids. This is great fun. Try making a face! Use the bottle tops to print the eyes, cotton wool to print the nose, a peg to print the mouth and a brush to print the hair!
Playdough or air-dry clay can also make a great printing pattern. You can use it as it comes or try pressing a pattern in using a plastic knife or skewer. See photo
Painting the bottom of a cake or muffin tin, then pressing it onto paper or papper onto it makes a really effective print. See Photo
If you wrap elastic bands around a piece of cardboard, this is also great for developing finger strength and fine motor skills you can use this as a printing tool, making a fantastic line print. See photo
Lego and block make great printing tolls, they are easy to clean too! You caould try printing a house or castle using the block effect.
Printing with bubble wrap (wrap bubble wrap around a rolling pin) This is great fun! An effective print can also be achieved by painting bubble wrap, laying paper onto it and then slowly peeling it off. You can make a fantastic rainbow in this way. See photo
You can also use you fingers, hands and feet to create lots of great printed pictures from flamingos to trees, lights to lobsters! See photo
Cardboard rolls make fabulous printing tools. Bend your cardboard roll into a shape See photo or you can just use it as a circle, dip into paint and make a lovely shape pattern. If you overlap the shapes it looks great!
Shaving foam colour marbling prints - fill a tray with shaving foam, pour some food colouring/paint on top (different colours), swirl the colours around to make patterns, place paper on top of the shaving foam to print, peel off and wipe away excess shaving foam using a ruler - a lovely print should be revealed.
Printing Photo Ideas: